 Sr52 Neurotalis Cápsulas
---
Termes i condicions
30-day money-back guarantee
Shipping: 2-3 Business Days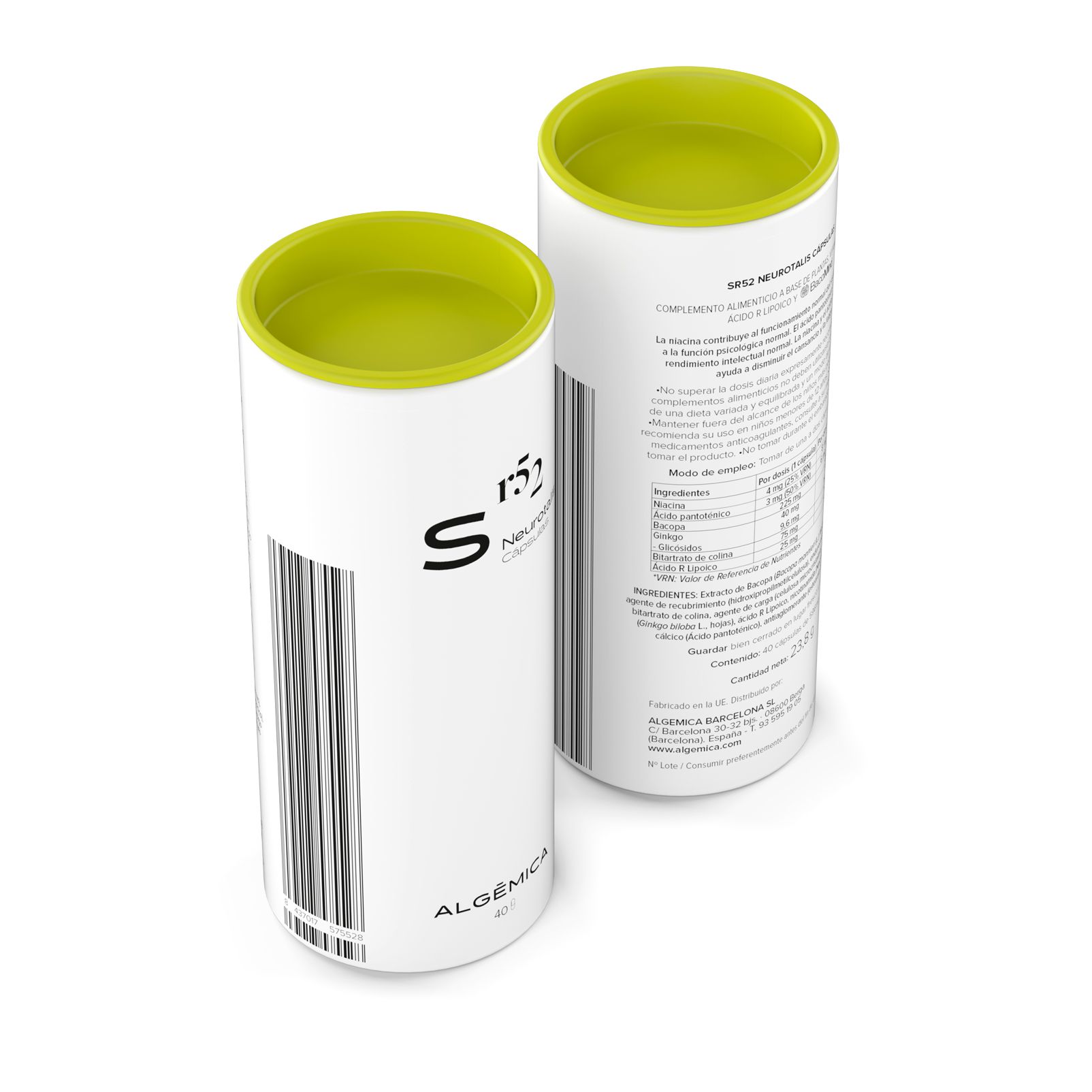 Sr52 NEUROTALIS CÁPSULAS
Sr52 Neurotalis Cápsulas és una fórmula complexa rica en Bacopa monnieri, Ginkgo biloba, colina, sodi-R-lipoat i vitamines B3 i B5.
La Bacopa monnieri és utilitzada en la medicina ayurvèdica utilitzada per tractar diverses condicions que afecten el sistema nerviós central.
La B. monnieri, que inclou Sr52 Neurotalis Cápsulas que prové de BacoMind®, és una composició fitoquímica estandarditzada patentada i provada clínicament millorant la memòria i la cognició. Aquest conté un extracte únic d'espectre complet amb 9 bioactius diferents derivats de Bacopa monnieri. Aquests bioactius són luteolina, apigenina, bacopàsids, bacopasaponines, bacosina i b-sitosterol.

Estudis clínics avalen l'acció de la B.monnieri sobre les funcions cognitives, preservació de la memòria, restitució de la informació, capacitats d'aprenentatge, memòria associativa, etc. 1-6
Un altre extracte present en la fórmula és el d'aquest arbre mil·lenari Gingko biloba estandarditzada en un 24% del grup de flavonoides ginkgòlids, fet que li garanteix qualitat en la concentració de l'extracte.
Altres components possiblement menys coneguts però no menys interessants són la colina i el sodi-R-lipoat.
La colina que està en forma de colina bitrartrat és la precursora de l'acetilcolina, un neurotransmissor amb múltiples funcions al sistema nerviós, com per exemple, el desenvolupament de les capacitats cognitives com la memòria o també, la intervenció en el sistema nerviós autònom, participant en l'activitat i coordinació musculars.
En el cas del sodi-R-lipoat es tracta de la forma de l'àcid lipoic produïda naturalment en l'organisme, en forma de sal i amb una biodisponibilitat més alta que l'àcid R-alfa-lipoic. Es considera que actua com a cofactor dels enzims mitocondrials en les cèl·lules.
A més a més, el Sr52 Neurotalis Cápsulas conté les vitamines B3 i B5 que ajuden a disminuir el cansament i la fatiga. A més, la vitamina B3 (niacina) contribueix al funcionament normal del sistema nerviós i a la funció psicològica normal. I la vitamina B5 (àcid pantotènic) contribueix al rendiment intel·lectual normal.
COM I QUAN ES PREN
Prendre 2 càpsules al dia, durant els àpats, un mínim de 12 setmanes.
INGREDIENTS PER DOSI
Bacopa monnieri (Bacomind™) 450 mg; Colina bitartrat 150 mg; Ginkgo biloba (> 24% gingòsids)  80 mg; sodi-R-lipoat 50 mg; nicotinamida (vitamina B3) 8 mg; àcid pantotènic (vitamina B5) 6 mg; excipients.


BACOMIND™ és una marca registrada de Natural Remedies Pvt. Ltd. 

Sr52 Neurotalis Cápsulas és un complement alimentari i, per tant, no ha d'usar-se com a substitut d'una dieta variada i equilibrada.
Precaucions
Sr52 Neurotalis Cápsulas conté Ginkgo biloba, una planta amb efectes sobre la coagulació sanguínia, de manera que està contraindicat en pacients que estan en tractament amb anticoagulants.

No superar la dosi recomanada.

Les persones que prenguin qualsevol altre tipus de medicació, dones embarassades o en període de lactància i nens menors de 15 anys, han de consultar al metge o farmacèutic abans de prendre un complement alimentari.

Mantenir fora l'abast dels nens.
This is a preview of the recently viewed products by the user.
Once the user has seen at least one product this snippet will be visible.
Productes consultats recentment